Thank you Steve Whisler, Candidate for Baltimore County Council, District 1, and Michelle Mazzocco of Catonsville Voices for the heads up. Maybe now we can replace the huge oak taken down this summer. Don't worry, it was dead! See!

Overstock of Big Trees from the County's Reforestation Nursery will be for sale on Saturday, September 26 from 9:00 a.m. to 3:00 p.m. at Oregon Ridge Park, Lodge Area (while supplies last). Big Trees are familiar native shade trees, such as oaks, ash and pine. They need more room to grow and take longer to mature, but they provide greater and longer-lasting benefits to homeowners when properly sited. Big Trees add value to your property, provide shade, soak up excess rain water, and provide habitat for forest birds. Trees are 1" caliper, or 3-7' in height; clearance prices range from $20 -$35. Sale is sponsored by DEPRM. Read the attached Species List and flyer and bring your neighbors to the sale event!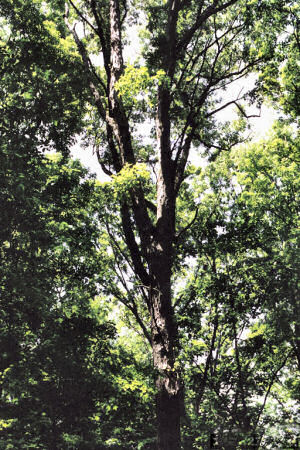 Native Big Tree Species Descriptions and Habitat Requirements

Chestnut Oak

(Quercus Prinus) One of the most distinctive features of this beautiful oak is the vertical pattern of thick raised plates and deep furrows on the dark brown bark of the trunk, which becomes more prominent with age. The species, which can reach 80 to 90 ft. tall in the wild, thrives in dry, rocky soils, but also does quite well in ordinary garden soils with good drainage. This major forest tree is typically not offered outside the forest nursery trade.
Green Ash

(Fraxinus pennsylvanica) A graceful, fast growing (2-3 ft./yr) shade tree reaching a height of 50 to 60 feet. Leaves, dark green in summer, turn yellow in fall. Prefers moist bottomlands, stream banks, and sunny uplands. Once established, it tolerates high acidity, salt, drought, and sterile soils.
Northern Red Oak

(Quercus rubra) A handsome large (ht 60-80' w 40-50') symmetrical fast growing shade tree with heavy ascending branches and dense dark green foliage turning deep brilliant maroon-red in fall. A heavy crop of acorns produced every 2-5 years provides food for a variety of wildlife. Prefers deep moist well drained acid soils (loamy, sandy, rocky or clay) and slopes facing north or east, but tolerates a wide range of growing conditions. Transplants easily and should be pruned when dormant. With adequate space, it is a good choice for open space urban plantings. It is tolerant of pollution, soil compaction, and salt.
Pin Oak

(Quercus palustris) Moderate to fast growing, straight-trunked and symmetrical, this stately tree grows to 50-80'. Lustrous dark green leaves turn russet, bronze or scarlet in the fall. Prefers rich loamy, well drained soil, pH 5.5 to 6.6, and sun to part shade. Thrives in the small spaces typical of urban landscapes. Tolerates polluted environmental conditions.
Redbud

(Cercis canadensis) Whether planted alone, in a clump or border, or a naturalized setting, redbud is a striking small tree (H: 20-30' W: 25-35'). The trunk often divides close to the ground; branches ascend, gracefully spreading, and are lined with outstanding purple/pink blossoms for 2- 3 weeks in April. Heart-shaped leaves are green in summer, yellow in fall. Prefers sun-part shade and deep, moist, but well-drained soils.
River Birch

(Betula nigra) This attractive, multi-trunked tree can reach 50 to 75 ft. in height with a spread of 35 to 50 feet. It prefers moist acid fertile soils, bit will tolerate drier sites. Wedged shaped leaves are lustrous and medium/dark green with double-toothed edges. The paper-thin exfoliating bark adds great beauty and interest to the winter landscape.
Swamp White Oak

(Quercus bicolor) One of the fastest growing oaks, which can grow to 75 to 100 ft. tall in the wild, this species reaches about 75 ft tall with a 50 ft . wide spread in residential gardens. It does well in moist sandy loams, but also in silty clay loams with poor drainage. The species is resistant to urban pollution, drought, soil compaction, and road salt. This beautiful tree is hard to find in the retail nursery trade.
White Ash

(Fraxinus americana) Its height is usually 50-80 ft with a spread of similar proportions. Its growth rate is 1 to 2 feet per year. Leaf color is dark green above and paler beneath, in summer changing to yellow to deep purple and maroon colors in fall. Prefers deep, moist, well-drained soils but also withstands soils which are not excessively dry and rocky. It requires full sun for best growth.
White Oak

(Quercus alba) The Maryland state tree, White Oak is one of the most handsome and long-lived oaks in the region. It grows with a full, outspread canopy from between 50 to 80 feet in cultivation, but may reach 100 feet in height in the wild. Best growth occurs in full sun in deep, moist but well-drained, acid soils, but can also tolerate dry, upland soils. The largest known White Oak in America was 31 ft. in circumference and had a 1-acre area dedicated as the Wye oak State Park in Talbot County, here in Maryland, for its protection.
White Pine

(Pinus strobus) This fast growing evergreen with soft blue-green needle-like leaves, often reaches a height of 50-80 feet, with a crown width half its height. Prefers fertile soil.